News
Sarah Huckabee Sanders Urges Involvement At Governor's Steak Fry At Nebraska City
Gov. Ricketts says it's been a tough year for agriculture, but there is progress in international trade
Sunday, September 29th 2019, 4:41 PM MDT
by
Updated:
Wednesday, October 2nd 2019, 2:12 PM MDT
NEBRASKA CITY – Former White House Press Secretary Sarah Huckabee Sanders highlighted Gov. Pete Ricketts' third annual steak fry Sunday at Arbor Lodge State Park.
Over 1,000 steaks were cooked in about 20 minutes as hundreds utilized event tents to get out of a light drizzle. The rain had stopped before the governor took the podium. He reported progress on international trade for Nebraska agricultural products and vowed to work with state senators for property tax relief.
Huckabee Sanders said while she is best known for the 2 ½ years she worked with President Donald Trump, she traveled to Nebraska City with her daughter Scarlet and said her most important job is that of being a mom.
Huckabee Sanders: "Being press secretary is a lot like being a mom, particularly being a mom to young kids, you see I'm very used to saying no and answering the same question over and over again."
She said the press asked her about the chaos in the White House and she liked to reference the chaos in her own home with three young children. She also answered the question at the governor's fundraiser  with a serious tone.
Huckabee Sanders: "If we wanted to see real chaos it would be allowing Democrats to take control. It would be allowing Democrats to move into the White House. If we want real chaos, we would allow Democrats to continue to build big government, raise our taxes and cheat Americans out of jobs."
She said at the root of real chaos is indifference.
She said involvement does not have to mean the front lines because Gov. Ricketts and state senators, such as Sens. Robert Clements and Julie Slama, can fill that role.
Huckabee Sanders: "You're doing great as a state, but in order to continue to do that, you have to make sure you send the right people to the state Legislature that can help the governor carry out those things over the next couple of years."
She drew applause with comments about Republican commitment to protect the Second Amendment, resist abortion and hold China accountable to fair trade practices.

Huckabee Sanders: "If we want to see chaos in the White House and in your house, we will allow the Democrats to let China continue to lie, cheat and steal from Americans. We have a President and a Republican Party that says no more. We're standing up to them and we're saying no. We're going to make them play by the rules and we're going to make them play fair."
U.S. Rep. Don Bacon said he was reminded of his own five grandchildren as Huckabee Sanders spoke and echos her sentiments about the danger of good people not getting involved.
Huckabee Sanders said she accepted her opportunity to stand with the President.
Huckabee Sanders: "... and fight back against a press who wanted nothing more than to destroy the President and destroy the country as we know it. It's because when good people don't get involved, when they are not willing to be engaged, bad things can happen."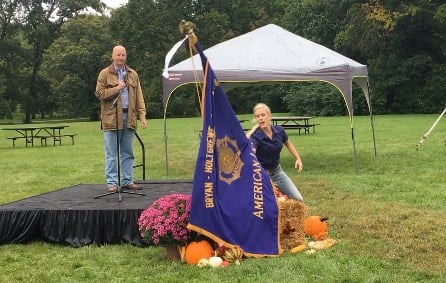 Gov. Ricketts said low commodity prices and severe flooding have made it a tough year for Nebraska agriculture, but there has been progress on international trade. He said he spoke with President Trump about trade.
Ricketts: "Our beef exports to China were entirely cut off and he opened up that market and he opened up our markets in Argentina, Vietnam … He has been working to get these trade agreements open, so we can have fair trade with these countries that have taken advantage of us for too long. He wants a level playing field and he's delivering on that promise."
The governor said ag exports to Vietnam have risen from $2.5 billion to $4 billion and beef exports to Japan are expected to increase 11 percent.